International, 18 August 2022 – GazeTV announces today the launch of its Phase 2, dubbed "Gazer-lization", a new phase of the GazeTV project emphasizing peer-to-peer interaction, social networking, and content discovery. Are you ready to be part of the Gazer community? Create your account now at Phase2.GazeTV.com.
Last year, GazeTV was first launched with Phase 1 GazeAge. While GazeAge primarily focuses on the video aspect, the emerging GAZE tokenized ecosystem has proven to be a solid way of not only embracing content creation but also connecting content creators and their audiences to support and interact directly with each other.
Harnessing the power of blockchain technology, the built-in reward mechanism plays a significant role in supporting the GAZE ecosystem, where the Upload Reward Pool allows content creators to build their content economy and the Engagement Reward Pool promotes user engagement on the platform.
Upcoming in Phase 2 Gazer-lization, we are taking the GAZE tokenized ecosystem to the next level, turning GazeTV into a well-rounded social entertainment platform.
While the reward mechanism remains, we will introduce new features in Gazer-lization to achieve the ultimate goal – bringing the Gazer community closer. In Gazer-lization, our primary focus is not just on video content but on social and entertainment.
After nearly a year of preparation and features development (see GazeTV's milestone), new functions such as live streaming, social networking, referrals, P2P transfer, and voucher system will be rolling out in this phase.
New Features At A Glance
Social Networking Space – Interaction and connection between Gazers can now be more direct and instant. The "Zone" section allows Gazers to express themselves and connect with other Gazers who share the same interests. Doing so will enable creators to reach out to their fans and vice versa. Once you add each other as Zonemate, you may view each other's updates at the Zone and perform live chatting. Stay connected.
Live Stream – This long-awaited new feature will soon be available on GazeTV. Live streaming makes the interaction between content creators and audiences happen in real-time. Creators can host public or private live streams for multiple purposes, including streaming a music show, an event, or casually chatting with fans. Private live streams allow creators to control the audience capacity and set the ticket price. To make streaming more entertaining, GazeTV live stream involves participated features, such as fun sharing and super chat, for audiences to get more involved in the live stream than just watching. Creators receive revenue from ticket sales and Super Chat purchases.
User Tier – GazeTV introduces multiple levels of user tiers to encourage on-platform user engagement. User tiers consist of four levels, from GazeBie, GazeSeed, and GazeTank to GazeStar. As the user level goes up, Gazers can enjoy increased incentives and privileges, including additional rewards on content revenue, access to more social features, free vouchers, and more.
Referrals – In this new phase, GazeTV provides an alternative revenue stream for every Gazer, from content contribution and engagement. By referring family and friends to join GazeTV, Gazers can earn referral rewards for every successful referral. Rewards are uncapped. The more referral you generate, the more referral rewards you can get. Extra incentives are distributed to referrers once the referee completes the required tasks.
P2P Transfer – GazeTV offers on-platform transfer for Gazers to send and receive GAZE instantly with no fees. Gazers can send GAZE to your Zonemates directly without leaving the platform, as the process takes a few clicks. Every transaction is recorded and protected on the blockchain.
MetaMask Integration – For crypto-savvy users, GazeTV makes everything easier for you. Once you have your MetaMask wallet connected to your GazeTV account, you can conduct platform transactions, such as P2P transfers, deposits, withdrawals, and balance checks, directly from your MetaMask wallet on the GazeTV platform. The wallet connection works as a hybrid model consisting of both decentralized and centralized exchange transaction flow.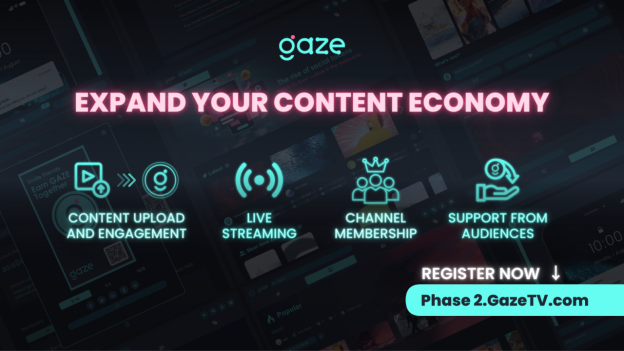 Whether you are a content creator, a regular user, or just an affiliate, Gazer-lization provides you with the best possible social entertainment experience.
Get started with your Gazer journey now. Sign up at Phase2.GazeTV.com.
If you are looking for tips for getting started with GazeTV, please refer to the User Guide.
About GazeTV
Phase2.GazeTV.com is a revolutionary new social networking and entertainment platform that combines the best of Web 3.0 and blockchain technologies to deliver a community-owned and socially conscious experience that empowers content creators and incentivizes users.
Powered by the GAZE tokenized ecosystem and its emerging DAO (Decentralized Autonomous Organization) governance structure – The GazeTV Foundation – GazeTV utilizes built-in tokenomic incentives and reward functions for interacting and growing its community like never before.
GazeTV Dapp: Phase2.GazeTV.com
Foundation Site: www.GazeTVF.com
Follow us on social media:
Twitter | Telegram | Facebook | Instagram | Medium | LinkedIn