NFTs have exploded in recent months, with nine of the top 10 most expensive NFT sales transactions taking place within the past six months, also setting records for the largest sales to date.
Non-fungible tokens, or NFTs, are unique cryptocurrencies that create the same scarcity in the digital world as they do in the real world, and artists were quick to seize the opportunity.
The 15 Most Expensive NFTS of All Time
Interest in NFTs has surged in 2022, with Google's search interest in NFTs reaching the highest number ever. NFT markets such as Nifty Gateway and OpenSea have also seen record volumes as more people look to get their hands on this emerging asset class.
However, it's not just interest that has increased in the market, the selling price of individual NFTs has also hit record highs, and artists like Beeple have generated staggering NFT sales. Let's take a look at the 15 most expensive NFTs of all time.
Everydays: The First 5000 Days, $69.3 million
THE FIRST 5000 DAYS is the most expensive NFT to date and may even be one of the most expensive artworks ever, this artwork by renowned digital artist Mike "Beeple" Winkelmann sold for $69.3 million at Christie's Price Sold – This is also the first time the venerable auction house has sold purely digital art.
THE FIRST 5000 DAYS NFT is a collage of Beeple's 5,000 early artworks, showing how he has been throughout his career as an artist. The person who took the picture was Vignesh "Metakovan" Sundaresan, who initially remained anonymous but has since revealed his identity.
It is worth mentioning that the second highest bidder for this piece was TRON CEO and founder Justin Sun who bid $60.2 million, but was sniped at the last second by Vignesh "Metakovan" Sundaresan.
CryptoPunk #7523, price: $11.8 million
Many of the most expensive NFT sales these days are from CryptoPunk, a randomly generated set of 10,000 unique digital pixel images published on the Ethereum ETH 0.38% blockchain One of the first examples of non-fungible tokens for , developed by Matt Hall and John Watkinson from American game studio Larva Labs.
Initially CryptoPunks were given away for free, some CryptoPunks with particularly rare or desirable features were sold at premium prices, CryptoPunk #7523 is a "special type of CryptoPunk" that has several such properties:
Is one of nine alien punks.
Wearing a medical mask also makes it uniquely topical in these times affected by the new coronavirus epidemic – which is why it was snapped up by Shalom Meckenzie, the largest shareholder of DraftKings, for a whopping $11.8 million in Sotheby's "Natively Digital" auction one of the reasons.
Shalom Meckenzie said: "I really want this special CryptoPunk, it's part of the Alien Collection, the rarest Punks, and the only alien wearing a mask, and the coronavirus is spreading fast. Quick, this feeling is very similar to the popularity of NFTs."
CryptoPunk #7804, price: $7.56 million
Design software company Figma CEO Dylan Field is behind the third most expensive NFT in history, CryptoPunk #7804, which sold for 4,200 ETH in March 2021, worth $7.5 million at the time.
One of only nine "Alien" collections of CryptoPunks, #7804 comes with three accessories, a front hat, a sun hat, and a pipe (actually, it's the only outsider that has a pipe or front hat Starman CryptoPunk series).
CryptoPunk #3100, Price: $7.51 million
There are many CryptoPunks on this list, another Alien series CryptoPunk #3100 wearing a headband was sold for 4,200 ETH ($7.51 million) in March 2021.
CROSSROAD, price: $6.66 million
CROSSROAD, also an NFT created by acclaimed digital artist Beeple, features an anti-Trump message and an enlarged Donald Trump-like figure lying unsuccessfully on the ground with swear words written on his naked body . Interestingly, though, the artwork changes based on the 2020 election results. If Trump wins, it will wear the crown and stride through the flames.
Nifty Gateway, a popular marketplace for digital collectibles, facilitated a deal between its original owner (Twitter user Pablorfraile) and an anonymous buyer, and the NFT sold for $6.66 million, just four months after its initial purchase. Sold for about 10 times the original price a month later.
Ocean Front, price: $6 million
In March 2021, Justin Sun finally got the NFT created by Beeple, and he paid $6 million for Ocean Front, another Beeple digital work.
It's worth mentioning that the money ended up being used for a good cause; the auction profits went to a non-profit organization, the Open Earth Foundation, which aims to track global compliance with Paris The agreement's progress in addressing climate change.
CryptoPunk #5217, price: $5.44 million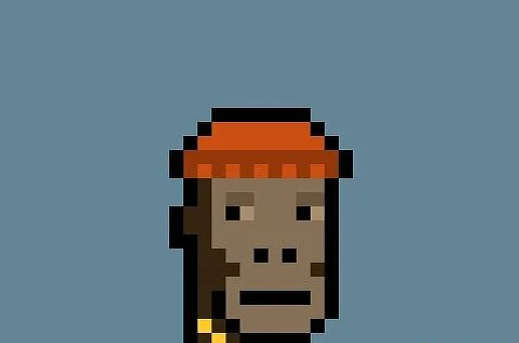 One of 24 "Ape" Punks, CryptoPunk #5127, a "Ape" with a knitted hat and gold chain, sold in July 2021 for $5.44 million.
World Wide Web Source Code, Price: $5.43 million
World Wide Web founder Sir Tim Berners-Lee has surprised many by announcing that he plans to sell NFTs representing the original source code of the "WWW" at a Sotheby's auction. Critics have complained that selling the source code of the World Wide Web to one person goes against the decentralized nature of the web; however, Tim Berners-Lee argues that doing so is "perfectly in line with the values ​​of the web."
Of course, "WWW" isn't really web source code — because it's open source itself, and free to view and copy. Regardless, the auction went ahead as scheduled, and the NFT, titled "This Changes Everything," sold for $5.4 million. Just a few days later, though, someone discovered a coding error in the artwork.
CryptoPunk #7252, price: $5.3 million
The last owner of CryptoPunk #7252 (a zombie punk with a chin strap, earrings, and tousled hair) bought it in early August 2021, probably paid $2.5 million at the time, but it only took them a few weeks Doubled the price and sold on Aug. 24 for 1,600 ETH ($5.33 million).
Stay Free, Price: $5.27 million
In April 2021, NSA whistleblower Edward Snowden unveiled NFT digital artwork, titled "Stay Free," which he created and auctioned off, depicting a work based on the text of a US Court of Appeals decision. Background musings on Snowden's cutouts — the Patriot Act doesn't allow the NSA to collect and monitor Americans' phone records on a massive scale.
Snowden sold the artwork for a whopping $5.4 million on the community-driven NFT marketplace Foundation, with all proceeds going to the Freedom of the Press Foundation, an advocate for free speech, press freedom, and journalism in the public interest Non-profit organizations.
However, perhaps more interesting – who bought this NFT? The answer: PleasrDAO, a decentralized autonomous organization (DAO) that aims to acquire "philanthropically meaningful works" on behalf of its investors. This is a classic example of an investor DAO, a new type of hierarchyless organization that can pool "scraps" of resources to invest.
Save Thousands Of Lives, $5.1 million
Billionaires may be motivated to buy NFTs for pixel images of apes and zombies to use as avatars and then qualify for bragging rights, but NFTs are by no means limited to that, and their use cases can be placed on many good causes. The non-profit organization Noora Health created the Save Thousands Of Lives NFT to raise funds for single mothers in South Asia looking for work. It is estimated that the organization could save nine babies out of every 1,000 live births at a cost of $1,235 per life saved; with NFTs being sold for 1,337 ETH ($5.1 million) in May 2021, sure There are big babies that can benefit.
CryptoPunk #2338, Price: $4.4 million
The Punk sold in August 2021 for $4.4 million. This is an even more surprisingly high-return case from an ROI perspective, the previous owner of CryptoPunk #2338 bought it for $443 (3.5 ETH) in November 2018, which means they are in less than three 1,000,000% return over the course of a year.
CryptoPunk #2338 itself is one of only 88 "zombie" punks, and one of only four zombies with the mohawk haircut attribute, and it's a rare punk indeed.
REPLICATOR, price: $4.1 million
The NFT digital artwork "REPLICATOR" created by Canadian visual artist Mad Dog Jones was auctioned for more than $4.1 million in New York on April 26. After that, this work will automatically generate a new generation of NFT every 28 days.
The NFT digital artwork "REPLICATOR" with a starting price of USD 100 quickly rose to USD 2.4 million within 24 hours after the opening of the auction. In the last five minutes before the end of the auction, it caused fierce bidding and the final transaction price It sold for $4.14 million, setting a new auction record for a living Canadian artist.
Fidenza #313, price: $3.3 million
While the likes of CryptoPunks and Bored Ape Yacht Club have been the hottest NFTs, Ethereum-based generative art collectibles, Art Blocks, have also seen modest growth.
In August 2021, Art Blocks saw its largest single NFT sale to date, Tyler Hobbs' Fidenza #313 changing hands for 1,000 ETH ($3.3 million at the time of purchase). Two months ago, the seller bought it for 0.58 ETH (~$1,400), which means the NFT has an ROI of over 235,000%.
In fact, Fidenza #313 isn't the only Fidenza piece to sell for more than $1 million, three other pieces in the collection that produced unique pieces made up of coloured rectangles and squares at the time of casting have all sold for seven figures as well. trade. Additionally, Art Blocks generated $300 million in trading volume in August 2021 alone.
The first tweet ever, sold for $2.9 million
just setting up my twttr

— jack⚡️ (@jack) March 21, 2006
The NFT version of Twitter co-founder and CEO Jack Dorsey's first tweet, and the first tweet in Twitter history, was auctioned off in March 2021, eventually fetching a whopping 290 million dollars was sold.
The NFT for the first tweet was minted through a platform called Valuables, which allows users to make NFTs that represent their own tweets. As part of his charitable cause, Jack Dorsey has pledged to convert the entire proceeds of this sale into bitcoin BTC -0.22%, which he will then donate to Africa Response, an African charity.
DISCLAIMER: The information provided by WebsCrypto does not represent any investment suggestion. The articles published on this site only represent personal opinions and have nothing to do with the official position of WebsCrypto.